Notch Filters for CATV / MATV / RF / FM Systems
Fixed and Tunable Models (0.8 to 1000 MHz)
Custom Notch Trap Specification (see fig.1)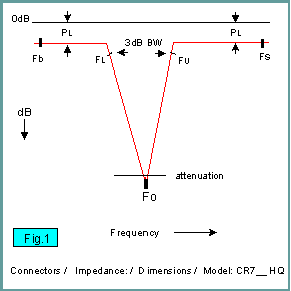 For prompt assistance on trap requirements, please provide the following info:
Notch Frequency: Specify Fo and/or stopband width (in MHz)
Attenuation ( in dB): Specify 5dB to 70dB1
Specify FL & Fu: critical frequencies (adjacent to Fo) to pass with minimal loss
Selectivity: 3dB BW - depends on Fo -inquire
Allowable Passband: Fb & Fs (in MHz)
Passband loss & ripple: 1dB ± .5 dB typ.
Connectors: Type F (female) std2
Impedance: 75 ohms2
Model #: CR7-HQ (see examples above)
Operation: Indoor, outdoor - inquire
Allowable Dimensions: inquire
Specific Requirements: Advise us
Notes:
Attenuation: Notches can be fine tuned for a specific attenuation level, they can also be combined for greater attenuation, notch width, and frequency stability.
Connector options - 75 ohms: Type F (male), and BNC (female); 50 ohms: Type N, BNC, SMA. (female); and 300 ohms : screw terminals.