MATV Headend System Products
---
MATV Distribution Amplifiers
TLE offers a variety of Over-the-Air HDTV distribution amplifiers
All models enhance the TV/FM signal to overcome distribution system loss, while maintaining high signal quality. Assistance to integrate amplifier selection with distribution system design is available.
Single channel and broadband models
Available for: VHF, FM, UHF, and RF (5 to 900 MHz)
Custom enhancements - inquire
Reliable performance, low noise figure
Impedance matched
Improved signal to noise ratio
UL approved power adapter and low power consumption
75 ohms, F-connectors for input & output





TA-25-174-700
HDTV amplifier
---
Off-the-Air (HDTV) Low Noise Distribution Amplifiers
Low noise (1.5 dB) amplifiers for residential and small HDTV distribution systems. Gain: 16 or 25dB for VHF Hi thru UHF band (chs 7-13, 14-51 - 174 to 700 MHz). Bandpass filtered to reject CB, FM and 750 to 1200 MHz communications signals.

TA-16 and TA-25-174-700 data sheet
Click: Table - MATV amps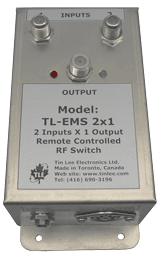 TL-EMS-2x1
RF Switch: 2 inputs & 1 output
---
Multiple Broadband Antenna Switchers
RF Switchers
Our TL-EMS Series allow you to access multiple broadband antennas for Tv systems and/or Test and Measurement applications. See RF Switchers for more information.
Example application: Using the TL-EMS-2x1 (see left) to switch between two antenna input signals for TV output or comparison purposes.
---
Adjacent Single Channel VHF Amplifiers (AGC)
Discontinued -- TA-62-AGC and TA-75-AGC
High gain, single channel amplifiers for VHF Headend, adjacent channel operation (e.g., 2,3,4,...7.8.9 - see MATV Headend). They offer high output for large distribution systems, reliable performance, and good picture quality. Available for chs: 2 to 13, 14 to 26 (CATV)
TA-62AGC series
Stable Output Level: +60dBmV
Automatic Gain Control (AGC) - maintains steady signal output, regardless of any off-air signal fluctuation
Adjacent Channel Filtered;
Low noise figure: 5 dB
TA-75AGC series
Rack mount version of TA-62AGC includes:
Sound reducer to prevent sound interference on upper adjacent channel
Semi-adjacent channel loop thru
Output level control: 20 dB range
Test points: input and output
Auxiliary AC outlet for power looping
---
Adjacent Channel Modulators (CATV and UHF)
TC-2AVM and TC-AVM series
Fixed frequency modulators, designed for adjacent channel operation. Typical applications include:
MATV Headend modulators for audio/video sources, such as, VCR, Satellite receiver.
Surveillance camera modulator for CATV system ( insert after channel deletion)
Click for example: MATV Headend.
TC-2AVM is available for: chs T7 to T13, 2 to 6
TC-AVM is available for: chs 2 to ZZ62 - adjacent operation; and 63 to 90 CATV, 14-69 UHF - semi- adjacent operation.
Good picture quality and reliable operation
Output level:+ 25, +45, or +57dBmV
Crystal Controlled (frequency stable output)
Level controls: Input A/V, and Output RF
Bandpass filtered for Adjacent channel operation
---
Single Channel Converters: TC-Series
Discontinued ------TC-Series
Custom channel-to-channel conversions. Designed to change the input frequency of a TV channel to a different output frequency TV channel.
All conversions are crystal controlled, frequency stable & accurate.
TC-series is intended for semi-adjacent operation
TC-series can be used in VHF adjacent operation - but requires external adjacent bandpass and/ or adjacent channel processor (e.g., TA-62-AGC amplifier)
Input level recommended:+10 to+ 20 dBmV
Signal Gain of the converter 1 to 5 dB.
Maximum Output: + 30 dBmV
Available channel conversions - see below
Applications: Click for > MATV Headend
Example Conversions:
Example #1: TC-4 ch.57 to ch.7
Convert - Input ch.57 (UHF) to output ch.7
Example #2: TC-34A ch.3 to ch.65
Convert - Input ch.3 (VCR) to CATV ch. 65
Conversions types available: *
UHF <> VHF
CATV <> VHF
TV <> Sub-TV
TV <> IF (41-47 MHz)
* Note: Most conversions are available.
Exceptions: conversions with < 60 MHz separation between input & output channel frequencies, and "forbidden conversions". (inquire to find out more about them)